Martino: Feather Your Nest
---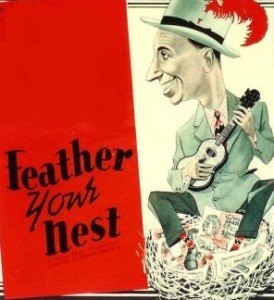 Did you know that in September 2004 the then part-time Palm Beach Gardens City Council which included some of today's part-time City Council members (Russo, Jablin, and Levy) conveniently approved an ordinance that doubled their existing salaries to $24,000? They also provided themselves with profitable benefits, such as, self-serving automatic annual cost-of-living raises, and health benefits for themselves and their dependents. In recent years lucrative retirement benefits were added to the package. All of this compensation for a part-time job is paid for by the taxpayers. Yet the public is not afforded any input!
Per the newly proposed 2016 City budget the part-time Palm Beach Gardens Mayor and City Council will be compensated annually as follows…
| | | |
| --- | --- | --- |
| | Councilperson | Mayor |
| Salary | $28,564.00 | $31,109.00 |
| Pension | $12,219.40 | $12,219.40 |
| Health-care | $19,397.40 | $19,397.40 |
| Total Compensation | $60,180.80 | $62,725.80 |
By virtue of a City Charter change instigated by these same Council members, the part-time Palm Beach Gardens City Council is required to meet only once per month. There may be more time spent but is it enough to justify the above?
In addition to the salary and benefits, the 2016 budget for the City Council pays for seminars and conferences, memberships and dues, professional services, contingencies, materials and supplies, business cards, and so on. The total of all annual 2016 budget costs for the five part-time Palm Beach Gardens Council members to the taxpayers is…
$462,372.00
or
$92,474.40 each
 The recent September 10th City Council of Palm Beach Gardens was gaveled to order promptly at 7:00 PM. The meeting was adjoined approximately two hours later. Using the above budget figures each City Council member collects in base salary $28,564 while the ceremonial part-time Mayor collects $31,109. To illustrate, perhaps, to the extreme, based on the City Council's schedule of one regular meeting per month, for those two hours the taxpayers paid the City Council members in salary only approximately $2,380.34 each, or $1,190.17 each per hour, and the Mayor approximately $2,592.42, or $1,296.21 per hour.
The five part-time Palm Beach Gardens Council members are among the highest compensated of all local governments in Palm Beach County. As far as I can determine, it is the only City that holds regular meetings with the public just once per month.
Owing to the unquestionable fact that City Council members are considered part-time city employees, I query the legality of most of the salary, retirement, health and life insurance appropriations on their behalf. Are other part-time City employees compensated with the same extravagance? Since when does an organization, or government, or business, or otherwise, annually pay salary of $ 145,541 as proposed, retirement benefits of $ 61,097 as proposed, and health benefits $ 96,987 as proposed, for five part-time employees that are obliged by charter to work only one day a month for possibly 1 to 4 hours.
Are the five part-time Palm Beach Gardens Council members serving their neighbors or feathering their own nests?